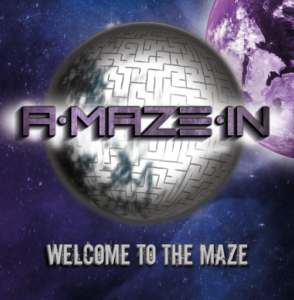 Pré-commande du 10 Février au 10 Mars 2021!!!
Les personnes qui pré-commanderont notre EP seront livrées le 20 Mars et seront gratifiées d'un cadeau supplémentaire, une vidéo de nôtre prochaine résidence vous sera envoyée!
John Helfy a créé le groupe A.MAZE.IN en 2018 dans le but de réaliser son premier projet et premier groupe. Le groupe est ainsi composé:
_Diabolo (harmonicas)
_NJ (basse)
_Phil Lebel (guitares et chant)
_Phil Martelli (guitares et chant)
_John Helfy (batterie, composition)
Mixage et prises de son : John Helfy
Mastering : Near Deaf Mastering
A.MAZE.IN évolue dans un rock progressif proche du hard teinté de mélodies sur une histoire proche de la science fiction.
Le premier EP « WELCOME TO THE MAZE » est une histoire comptée sous forme d'un concept album de 19 minutes. Écrites et composées par mes soins, toutes les chansons sont arrangées et achevées par le groupe.
Real/Prod: John Helfy – 2021